Baits designed specifically for Lac Serreire & Badgers Holt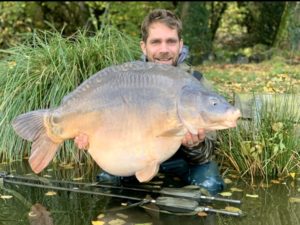 Our aim is simple – Using 30 years of bait making experience and contacts within the bait industry, we aim to provide the absolute best quality boilies possible. Many commercially available baits are a compromise because they have to be suitable for all lakes. But not all lakes are the same.
We provide baits optimised for Lac Serreire and Badgers Holt with no compromises at all. In doing so, we provide the carp with the best possible HNV (high nutritional value) food source for long term health and safe, sustainable weight gain. And we eliminate the problem that many anglers face when visiting a French venue; not really being sure what bait to use and having to transport it whilst still keeping it frozen. Every angler using the baits we supply can have total confidence that they are the most successful and effective baits on the complex. It's a fact that in 2021, approximately 80% of all carp caught were on the baits that we supply at the fishery.
All baits are frozen and totally preservative free. We have multiple chest freezers installed to ensure that we always have fresh baits available. You do not need to pre-order your bait, just use as much or as little as you need whilst you are here.
For more information about the very important subject of HNV baits Click Here
Serreire Crayfish & Squid Boilie Range (whilst stocks last)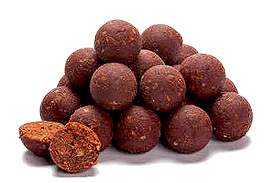 Rolled in the UK by the bait guru Geoff Bowers, these baits are made from top quality fish meals, bird foods and milk proteins. The bait contains a spread of base mix ingredients that gives it the highest possible biological value (BV) for the carp. The more that they eat, the more that they accept it as an almost natural food source and the more they want. This is the big difference compared to many 'attractor' type baits on the market that don't offer a nutritional food source and therefore typically only work in the short term. This 'food source' bait has the ability to totally dominate a fishery and results here have been spectacular.
New for 2018 – We have slightly changed the flavour package with an additional natural fish flavour blended with the original crayfish and squid liquids. A liquid enzyme has also been added making the bait more 'active'. Once thawed out, the enzyme increases the rate of break down of the proteins within the bait, releasing free amino acids into the water. As before, the bait also contains a hydrolysed marine protein liquid food source to compliment the base mix and provide even more food signals. We have long been of the belief that it is the base mix and liquid food sources that catch carp and not the flavours. The flavours are there to provide a 'label' in the classical HNV concept and not for primary attraction. Very often on commercial fisheries, many anglers use highly flavoured 'attractor' baits and the carp become quite wary of these types of baits. High nutritional value (HNV) base mixes with natural flavours at very low levels will nearly always work the best in this situation and this is exactly what we have achieved with this bait.
The bait is dark red in colour and available in 20mm and 16mm sizes. Other sizes are available to order with at least 6 weeks notice – Please call.
During the spring and autumn periods we add an emulsifier to assist with the breakdown of the bait's fat content along with a very small amount of wheat germ. These aid digestion and increase attraction in the colder water temperatures.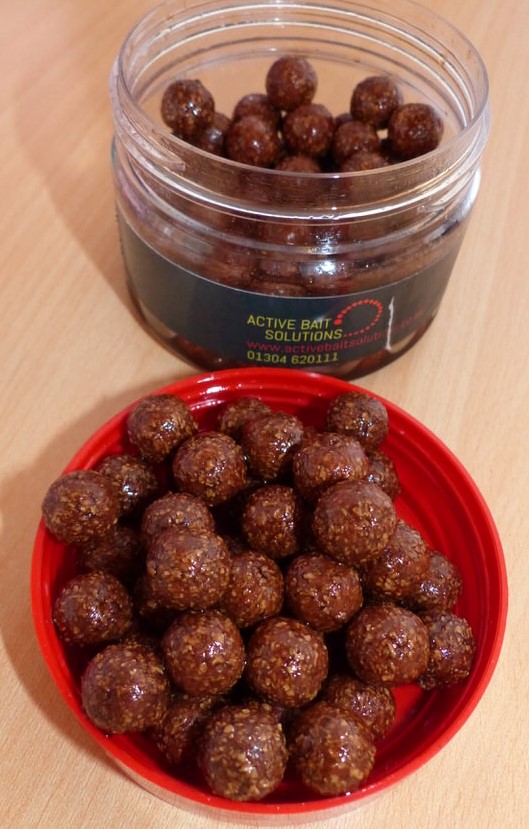 Crayfish & Squid Hook Baits
We also supply the following hook baits to match these boilies:
15mm white airball pop ups
15mm cork dust pop ups
15mm cork dust wafters (by far the most successful hook bait on the complex)
15mm hard hook baits
Union Jack Coconut Creme and Shellfish
Another pair of classic HNV 'food source boilies' containing fishmeal's, milk proteins, amino acids, Robin Red, PTX, GLM, CLO and a few Serreire secret ingredients. These are very special baits containing the highest quality ingredients and rolled locally in Limoges, France. We currently stock two different flavours, Coconut Creme which is very similar to CC Moore's Live System/Mainline Cell and Shellfish which is deep red in colour with a spicy fish flavour. Both of these boilies have been very successful on both Badgers Holt and Lac Serreire and have accounted for a lot of very big fish. Available in 18mm sizes.
We also supply the following hook baits to match these boilies:
16mm pop ups
18mm hard hook baits
16mm wafters
250ml dip
Other sizes and barrels are available to order but we need at least six weeks notice.
Lake Specials – Tuna and Banana/Garlic and Liver
New for 2022 – Made specially for the complex with the freshest local ingredients are the new ranges of Tuna and Banana Boilie and Garlic and Liver Boilie. The mixes contain fish flour, tuna flour, corn flour, cornmeal, wheat flour, degraded soy, rice, fish proteins, spices, Robin red, salt, sugar, fresh eggs, salmon oil, flavourings and various essential oils.
The Tuna and Banana are a golden colour with a distinctive banana aroma whilst the Garlic and Liver is a deep red colour with a fragrant meaty, garlic aroma. Available in 20mm sizes.
We also supply the following hook baits to match these boilies:
Coppens Carp Pellets
Adding pellets into your bait application will usually greatly increase your chances of success on both lakes. When any species feed on pellets, masses of tiny food particles are created. These sink back into the silt and remain long after any boilies or whole pellets remain. They provide strong food signals continuing to make the spot attractive and a hook bait more likely to be found. But, for this to work, it is important that they are the right type of pellets.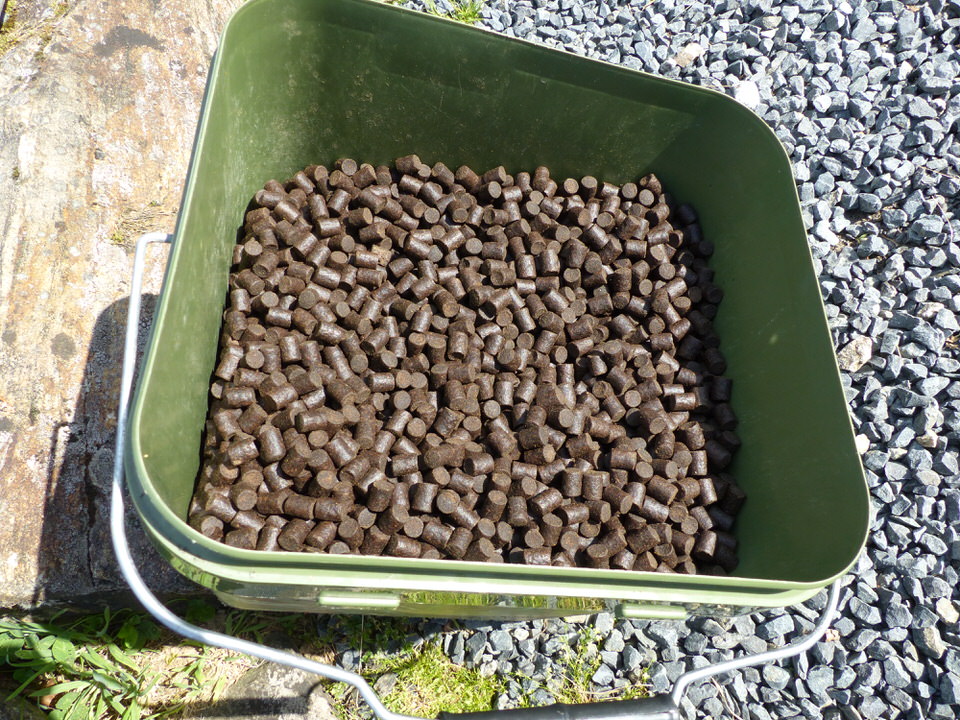 After a great deal of research we have settled on using Coppens 'Carpe Intensive' pellets in 9mm size. The 'Carpe Intensive' pellets are used throughout the year and especially for feeding throughout the winter when the water temperatures are low. The pellet has a high protein content optimised for the nutritional requirements of carp.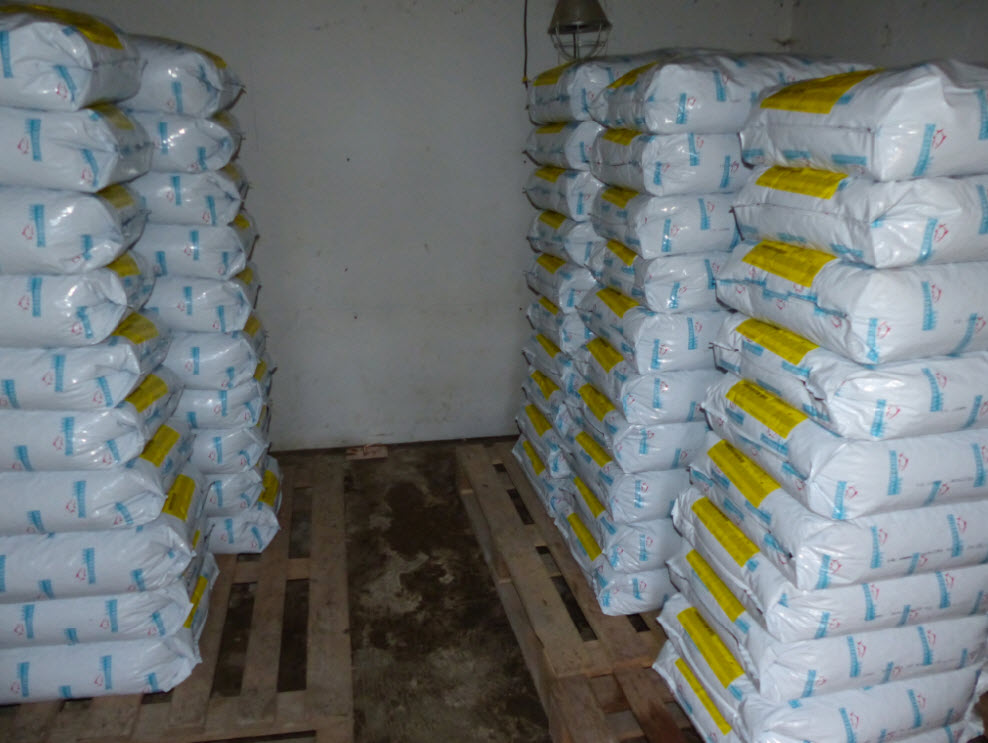 The protein spreads are also optimised to have the highest possible BV (biological value) for carp meaning that a high percentage can be assimilated and utilised (unlike many pellets designed for other species like trout, halibut, etc). They also have a full spread of vitamins and minerals added that are designed to optimise heath and boost the immune system. These pellets are also designed to minimise waste from the fish therefore reducing ammonia loading in the water. This can be especially important in high summer with warm water and very active feeding.
New for 2018 – Due to the importance of maintaining the best possible water quality and providing the carp with a safe, high quality diet, we only allow the use of our Coppens pellets at the fishery.
For more detailed information about pellets Click Here
Hemp
We also supply freshly prepared hemp by the bucket but require at least 48 hours notice for correct preparation.
Particle
We also supply freshly prepared particle by the bucket. Our specially prepared mix includes maize, red dari, white dari, naked oats, wheat, safflower, linseed, mung beans, black rapeseed, garlic, buckwheat, canary seed, aniseed and hemp.
Due to finding some very poorly prepared particle we now insist that only particle and hemp prepared by us is used at the complex. Please note we require at least 24 hours notice for fresh particle.
Carpet Feed
A structured dry blend of maize, pellet, hemp pellet, ground seeds which mix superbly with our particle mix.
Please note that all forms of plastic, cork or foam hook baits are prohibited in addition to any live baits (including maggots, casters and worms).
Please remember to check our rules about baits Click Here