Baits designed specifically for Lac Serreire & Badgers Holt
Our aim is simple – Using 35 years of bait making experience and contacts within the bait industry, we aim to provide the absolute best quality boilies possible. Many commercially available baits are a compromise because they have to be suitable for all lakes. But not all lakes are the same.
We provide baits optimised for Lac Serreire and Badgers Holt with no compromises at all. In doing so, we provide the carp with the best possible HNV (high nutritional value) food source for long term health and safe, sustainable weight gain. And we eliminate the problem that many anglers face when visiting a French venue; not really being sure what bait to use and having to transport it whilst still keeping it frozen. Every angler using the baits we supply can have total confidence that they are the most successful and effective baits on the complex.
All baits are frozen and totally preservative free. We have multiple chest freezers installed to ensure that we always have fresh baits available. You do not need to pre-order your bait, just use as much or as little as you need whilst you are here.
For more information about the very important subject of HNV baits Click Here
Serreire Crayfish & Squid Boilie Range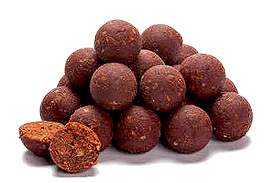 Made from top quality fish meals, bird foods and milk proteins this bait contains a spread of base mix ingredients that gives it the highest possible biological value (BV) for the carp. The more that they eat, the more that they accept it as an almost natural food source and the more they want. This is the big difference compared to many 'attractor' type baits on the market that don't offer a nutritional food source and therefore typically only work in the short term. This 'food source' bait has the ability to totally dominate a fishery and results can be spectacular.
The bait also contains a hydrolysed marine protein liquid food source to compliment the base mix and provide an additional food signal. A combination of natural crayfish and squid flavours along with pure garlic oil are provided to give the bait a 'label' as opposed to primary attraction. We have long been of the believe that it is the base mix and liquid food sources that catch carp and not the flavours. Very often on commercial fisheries, many anglers use highly flavoured 'attractor' baits and the carp become quite wary of these types of baits. High nutritional value (HNV) base mixes with natural flavours at very low levels will nearly always work the best in this situation and this is exactly what we have achieved with this bait.
The bait is dark red in colour and available in 18mm and 15mm sizes.
During the spring and autumn periods we add an emulsifier to assist with the breakdown of the bait's fat content. This aids digestion and increases attraction in the colder water temperatures.
New for 2017 – Customised Serreire Fenspice boilie range:
*** New for autumn 2017 – We now also have Serreire Fenspice in a Peach & Pepper version available ***
To provide anglers with more choice in 2017, we decided to add an additional boilie to the range of baits available on-site. As many people will know, having spent over 35 years fishing for carp and being almost obsessed with bait, I am a great believer in HNV baits. Time and time again, when applied correctly, they out-fish everything else. The key to unlock some of the hardest waters I ever fished was almost always HNV bait. It can make difficult carp suddenly look easy. Lac Serreire and Badgers Holt are no different. HNV baits are by far the most successful baits used on the complex – Nothing else comes even close.
During 2016 we started discussions with Mark Lycett who owns the bait firm Custom Bait Services. Mark is also extremely passionate about HNV baits and I had been aware of his Fenspice bait for years. Fenspice has been around since 2005 and was a progression on from the original Red Baron range that was first formulated in 1992! So this bait has been around for very many years quietly doing the business for those in the know!
Fenspice uses a combination of fishmeals, milk proteins and birdfoods. The list of ingredients is amazing and I don't believe that there is another bait on market that has such a spread of ingredients, all of which the carp love:
Rennet casein
Lactalbumin
Salmon meal
South American fishmeal
North Sea fishmeal
Pre digested fishmeal
Pepperspice
Krill meal
Calf gold
Maize protein,
Granular kelp meal
Full oil Green Lipped Mussel powder/ Dessicated liver powder (10%)
Essential oils
Red salmon oil
Hydrolised krill liquid
Exclusive spice blend
Essential oils
Genuine SLUIS CLO
Brococell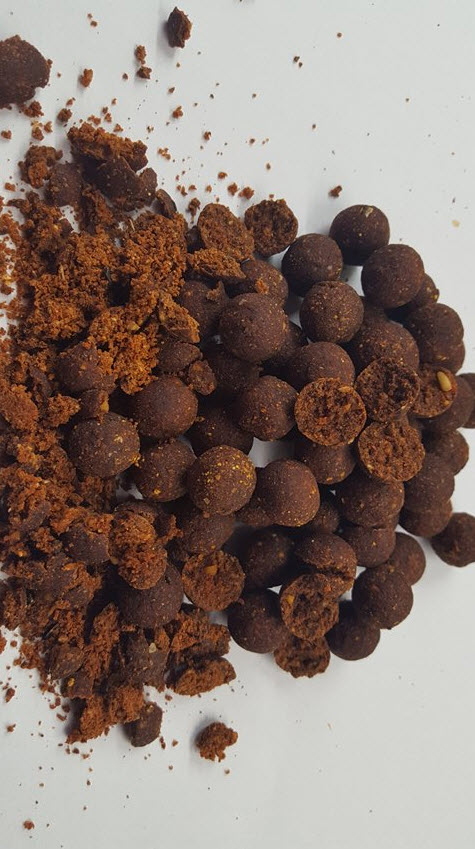 The refined milk protein content is rich in amino acids, the fishmeals add further protein, taste and oils and the pre digested fishmeal is a very important part of the bait as it is 80% soluble. The spices are used to enhance the taste of the bait and they also contain various substances that are good for the carp's health. Kelp adds taste alongside vitamins and minerals. The krill part of the bait is there because of its attraction properties, it also contains a large spread of amino acids and adds buoyancy to the bait which is very useful on Lac Serreire due to the silt. The krill liquid is a highly stimulatory product. It is rich in taste and, like its powdered counterpart, is full of amino acids. Insect meal is added because carp love it and it's very rich in vitamins and minerals. The really special part of the bait is the high level GLM/Liver combination. Custom Bait Services have used these two products since the 1980's and make no mistake they are at the top of the tree as far as big carp attractors go. Two very important things to be aware of with these products are the levels needed to be at the optimum amount and, very importantly, the two of them need to be the highest quality available.
To finish the bait off nicely, a blend of essential oils and Custom Baits's own spice liquid are added. A little red salmon oil is added as well to add a further lipid source.
Specially for the Serreire 'customised' version of Fenspice, two secret additional ingredients are added; one to further enhance the nutritional profile and the other to make the baits harder than standard due to the nature of the fishing on the complex. Please note that this customized Serreire Fenspice is only available exclusively from us.
For 2017, these freezer boilies will be available on-site in two sizes; 18mm and 15mm.
During testing of the Serreire Fenspice by several anglers in 2016, multiple fish from both lakes were landed even in very tough conditions. Then after we closed, in just a handful of nights fishing in extreme cold conditions this bait produced two fifties, a mid-forty and a thirty from Badgers (one of the fifties was actually played under the ice and netted through a hole in it) and a mid-forty and two upper-thirties from Lac Serreire before the lakes froze over completely.
For more information about Fenspice, see Custom Bait's own website at http://www.custombaitservices.com/badgers_holt.php
Both boilie ranges are available complete with a range of matching hook baits and glugs including:
Coppens Carp Pellets
After a great deal of research we have settled on using Coppens 'Carpe Intensive' pellets in 10mm size. We moved over to this pellet in 2016 after the success of using the Coppens 'Premium Select' pellets the previous two years. The 'Carpe Intensive' pellet is higher in protein at 40% and slightly lower in fat at 10%. The protein spread is also optimised to have the highest possible BV (biological value) for carp meaning that a high percentage can be assimilated and utilised (unlike many pellets designed for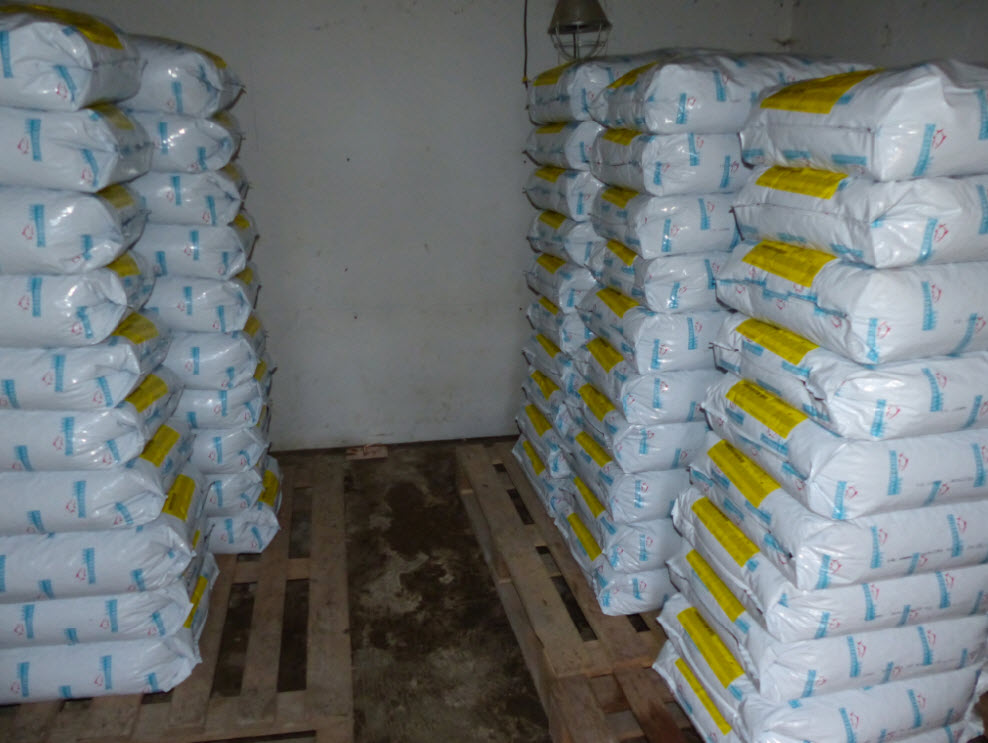 other species like trout, halibut, etc). It also has a full spread of vitamins and minerals added that are designed to optimise heath and boost the immune system.
This pellet is suitable for use in cold as well as warm water conditions and is highly digestible. It is also one of the best pellets available in terms of minimising waste from the fish and therefore reducing ammonia loading in the water. This can be especially important in high summer with very warm water and very active feeding.
Subject to water temperatures, we also feed these pellets in very high quantities in both lakes during the times that we are closed. The carp have eaten so many that they are always readily accepted as an almost natural food source. Results using them in 2016 have been unbelievable.
For more detailed information about pellets Click Here
Plastic Baits
Please note that all forms of plastic or foam hook baits are prohibited.
Please remember to check our rules about baits Click Here