Going back a few years I was mainly fishing the big public waters of France and the Serreire complex was one of the first commercial waters that I ventured on to. Being in stark contrast to what I'd fished before I wasn't quite sure how I would find it, but not only did I enjoy that first trip very much, I found myself being drawn back time and time again. I guess with carp waters you don't know if you'll like them or not until you actually fish them and there was just something about Serreire that ticked all the boxes. It was actually Badgers Holt I fished that first time in 2004 and not only was it peaceful and scenic but it had atmosphere and character in abundance – not to mention loads of stunning carp.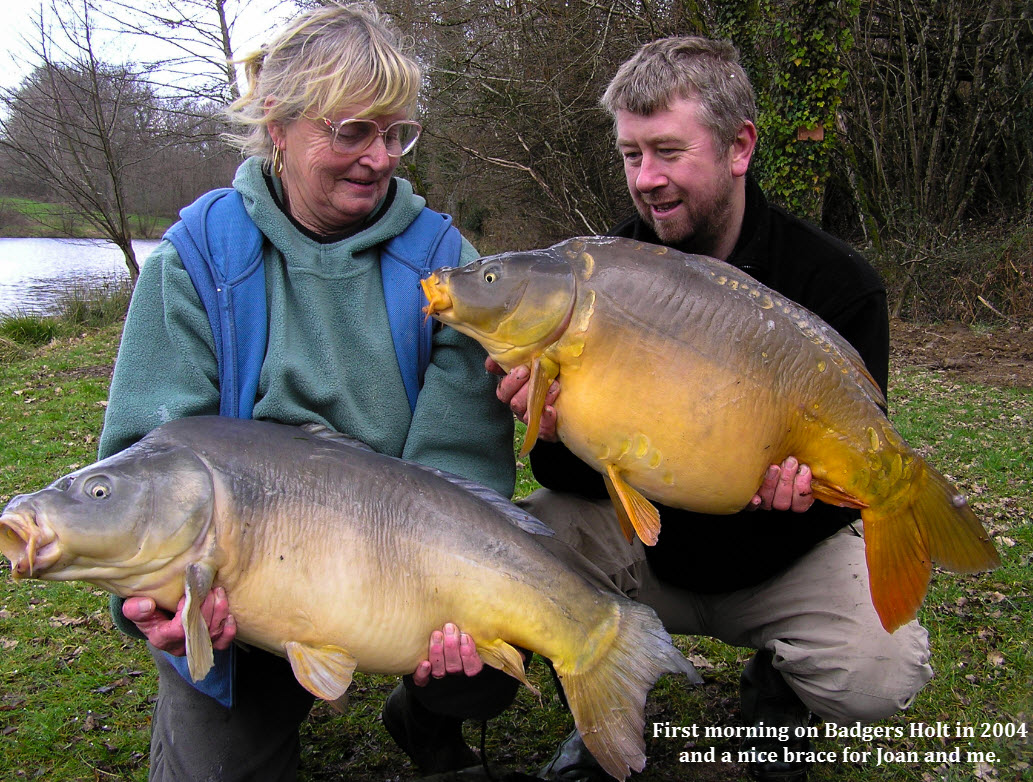 First morning on the lake Joan and I had simultaneous takes which saw us land mirrors of 28lb and 31lb, which was just the start of our love affair with that small lake and I would never have thought at the time that all these years later we'd still be making that journey south to Limoges and still be enjoying the fishing there as much as ever! I guess those two fish would be considered fairly small these days and it's fair to say that a fair bit has changed over the years but unusually the changes have normally been for the better and Serreire remains a fantastic venue that continues to improve.
Over the years a few big fish have come my way, originally a 40lb carp was a big one and I had a few of those but there was one that became known as Jo Jo which I saw many photos of and was able to see it grow from mid to upper 30's. It wasn't always the biggest fish in the lake but it was the one that I always wanted to catch, but no matter how hard I tried it just never happened, it would always be out the week before I arrived or maybe the week after and it's sometimes the case that the one you want most is the one you can't catch – it's almost like wanting to catch it puts some sort of barrier in the way, if you know what I mean?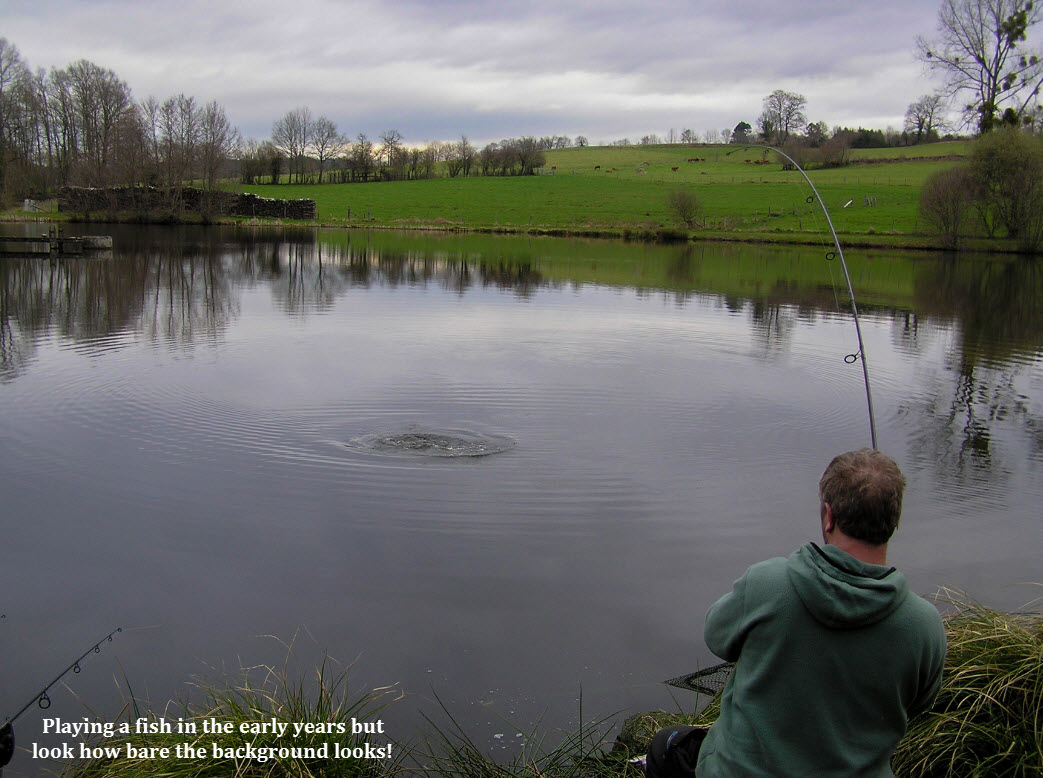 Anyway there were plenty of other good fish around. The original Badgers Holt Big Girl started off in Serreire and was moved up to Badgers Holt. I was lucky enough to catch her twice in one trip at just under 57lb, but as time went on other fish began to make it over 50lb too. The Yellow fish was one that both Joan and I caught and there were a few others, which never failed to impress me, having grown on in that small but beautiful lake.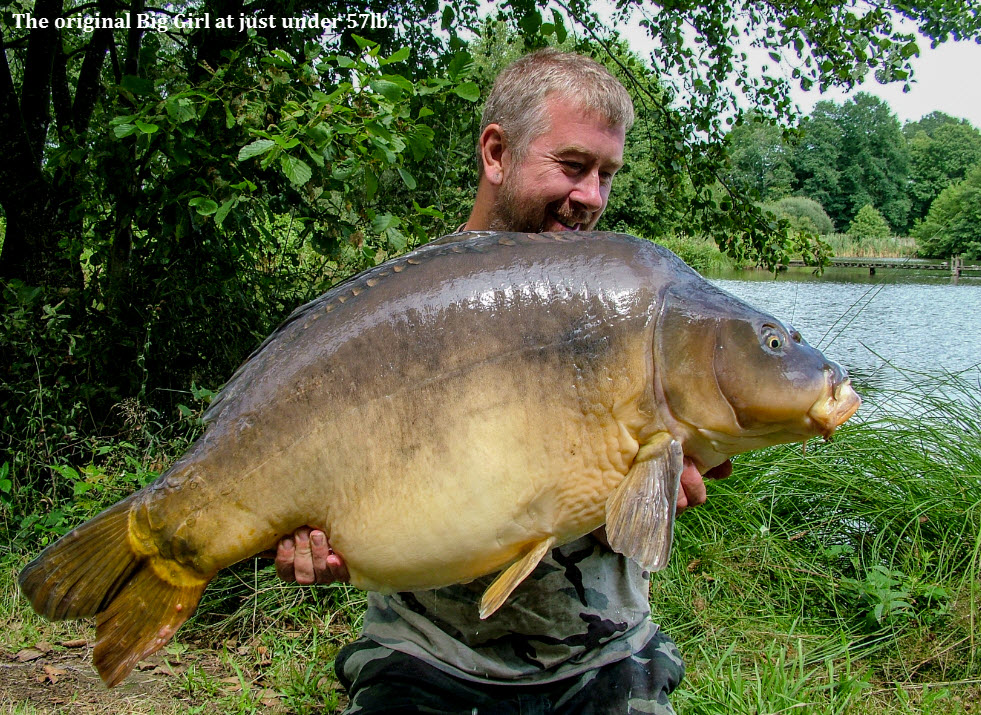 Of course fish that are put under pressure tend to wise up fairly quickly and that was very true of the Badgers Holt fish and although I've always managed pleasing results it was clear that you had to give it some thought. One time I'd had one of the tougher trips with three fish I think, which was ok but I was followed on by Rob Hales and his friend Sam who proceeded to catch loads of fish, including Jo Jo at over 50 – and their tactic was to fish only pellets, nothing ground-breaking but no one else had been doing it and it was a lesson that fish were there to be caught but you couldn't be to blasé about it – give it some thought and effort and the good results were there to be had. One of the best bits of advice I was given was to make things happen for myself. If all was quiet and the fish appeared to be off the feed, then give them some food and motivate them in to feeding – it's advice that has held me in good stead many times since then right up to the present day!
While the fish have grown on incredibly over the years, Badgers Holt has changed a bit too. I was surprised myself when I looked back over my pictures from the past to see how the lake has matured. In those early years the far bank from the cabin used to be more or less open and I used to watch deer strolling across the farmers' fields early in the morning. Nowadays trees have seemingly appeared from nowhere and really enclosed the lake and ok the views might have changed but it has given Badgers Holt an even more atmospheric feel.
In 2014 I had to make decision, I had been fishing Badgers Holt for ten years and I had caught a great many of its prized jewels. I still hadn't caught the fish I wanted most – Jo Jo, but sometimes you just have to accept that not everything can go your way and move on to pastures new. Of course on that final session the carp gods were on my side and out of the blue, totally unexpected Jo Jo ended up in the bottom of my net. It was a moment I'll never forget and the ten-year-wait was finally over – in those early days I could never have dreamed that the fish I'd watched grow on from mid 30's had now reached the colossal weight of 72lb 4oz! Magic moments indeed – almost like the lake felt it owed me something after all that time.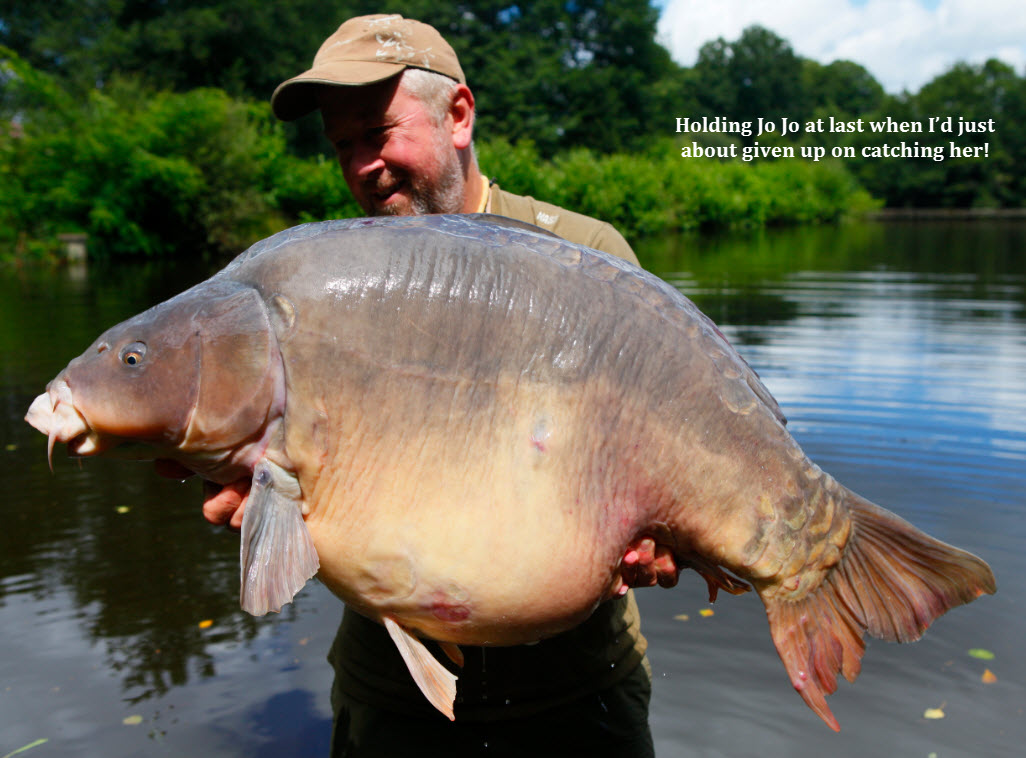 It might have been my last session on Badgers Holt but just a few yards away is the larger Serreire and that's where my attentions will turn to in the future. I have dabbled a few times with Serreire in the past and always enjoyed it on there, but now without the distraction of Badgers Holt I can give the bigger lake the attention it deserves. Of course just like the smaller lake, Serreire has come on in leaps and bounds in recent years. I know how much hard work has gone in to developing that lake in to the carp fishery that it is today. It's fair to say that there were times when it looked an impossible job but now the rewards are being reaped and not only does Serreire hold a great deal of very good carp, it holds the biggest fish on the complex!
When Bob and Sheila Davis moved on I wasn't quite sure what the future would hold for Serreire, but I needn't have worried as with Simon and Corinna now at the helm the lakes are looking better than ever. There are undoubtedly many lovely lakes out there that I've never had the chance to fish and you never really know how you will feel about somewhere until you've tried it. With ten years under my belt at Serreire I look forward to fishing it now as much as I ever have done. Some things might have changed but they've only changed for the better and I'm just pleased that I've been able to spend so many happy times there. Two wonderful lakes owned by two great people – and so many nice fish to catch! Roll on the next trip!